Q&A with Little Village HQ: MORI Kindness Project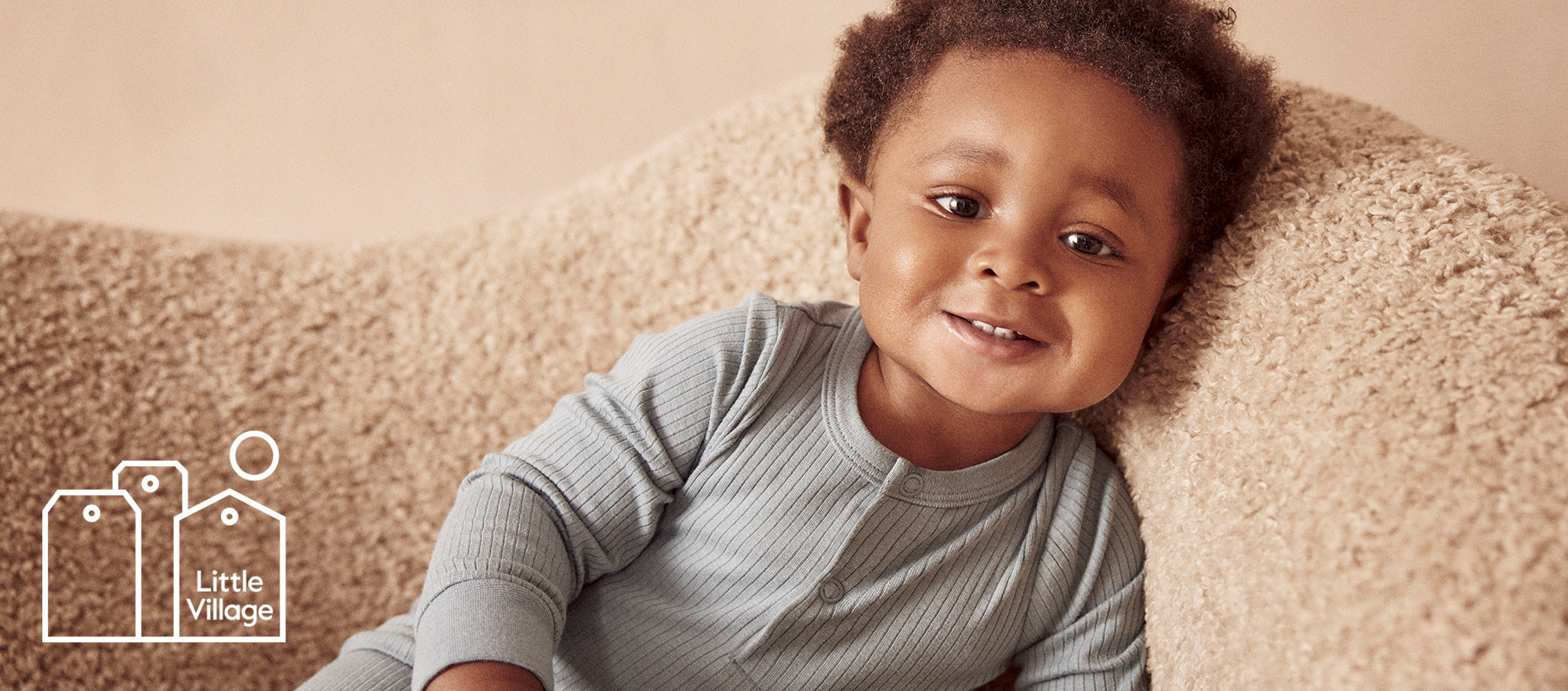 At MORI, we believe that no matter how big or small your company is, it's important to make a difference. This is why for the past 5 years, we've supported Little Village, an incredible London-based charity that gifts bundles of clothing, toys and equipment to families in need. 
Our Social Media Manager Beth visited their HQ to learn more about the company and how we as a community can get involved. 
How long has Little Village been running?
Little Village was founded in 2016, so it's a relatively young organisation. It was started by Sophia Parker and a group of mums in Tooting who recognised two things. Firstly, when you're a parent with young children, you often have an excess of things (clothes, toys etc.) and it can be hard to work out what to do with them once you've finished using the items.
A buggy or a bed often has so much more life in it after a child has finished using it, but it can be difficult to find a place to donate to. At the same time, they recognised there are so many families in London who wouldn't be able to buy these items. So they wanted to close that gap and provide a way to share between communities.
What does the process look like?
At Little Village, we have a massive emphasis on quality. We want every bundle a family receives to feel like a gift, it's not just people getting second-hand items. We want these items to feel really special. When we receive donations on site, our volunteers run quality checks. They make sure there are no rips or stains. If it's a jigsaw, has it got all the pieces? If it's a toy, does it work? If it's a buggy, is it still working properly? Every item will be really carefully checked to make sure it's the correct quality for a family to receive. 
The way families come to us is by being referred by professionals working in the community.  We receive that referral with all the information about the family, what age the children are and what their needs are. We get in contact with the families and they will either come on-site to one of the shop spaces, or they'll receive a home delivery.
In our shop spaces, everything will be beautifully laid out and they will go round with a staff member or volunteer to talk through what they need, then they're able to pick out what they want. For a home delivery, the items they need will be delivered straight to them by one of our drivers.
Once a family has items that their children no longer need or they've grown out of their clothes, we encourage them to donate back to create a cycle of support. We also encourage them to come back and volunteer if they're able to and want to do so further down the line.
We really focus on creating a network of support because we know that having a young child can be a really isolating time, regardless of your circumstances. It's really challenging being a parent and you need a support network around you. Particularly in a city like London where things can feel stacked against you, we're trying to create those connections for families. We're there in an emergency situation, we respond to many serious and urgent situations.
What are the best items to donate?
Except for food, we give everything a child under five would need. Anything you can think of will provide it if we have it in stock. The items we are usually low on are buggies and beds, those items are always hugely in demand, but often we just don't have enough to match the demand. The items we have to buy new, such as nappies and toiletries, we are also thankful for. Clothes for all ages are always encouraged, we often find we receive fewer clothes for older ages such as 3-5 years. You can find the full list of items we gladly receive on the Little Village website.
How does the partnership with MORI help?
It's always lovely for us to be able to include new items in the bundles, we have a huge focus on pre-loved and reusing clothes, but to be able to include new things that brands have donated is also very special. With the demand for us being so high, it's always hard to have the amount of donations to match that so it's great that MORI can help us fill that gap and donate some really lovely items we otherwise wouldn't be able to have.

MORI's Kindness Project also means their customers can get involved too by donating old MORI items they no longer need for their family, so they can be passed along to other families. When you donate your pre-loved or unused MORI clothing back to MORI, they will send those items directly to us. You'll then receive a voucher to spend at MORI as a thank you. To get involved, find out more about the Kindness Project.

How is the current cost of living crisis affecting the families you help?
We're noticing the need is getting greater, and people are being put in really difficult positions. We're anticipating this winter in particular to be incredibly tough for many families. We're looking to be supporting at least 9000 children next year, and the number is constantly going up and up. We had a family recently come into our Tooting site who weren't able to use more than one nappy a day for their child, which is obviously really dangerous for the child.
Families are being put in these really difficult situations meaning they're having to make very tough decisions. When you've got to pay your bills, things like clothes, nappies and toiletries fall by the wayside. The winter ahead is a really scary prospect, and we're already seeing an increase in referrals.
What does your volunteering programme look like & can someone get involved?
Little Village could not function without our volunteers, we have over 600 now. We've recently opened new hubs in Hounslow and Hackney, and we always need as much help as we can get to cover all our sites. We're trying to expand and match our operations so we can support as many families as possible. 
There are lots of different volunteer opportunities available. You could come along to one of our sites to help with packing, sorting and bundling donations ready for families. You could come along to greet families when they come and help support them. At a few of our hubs, we have creches, so there are opportunities to get involved with those as well.
We also have home base volunteering; once families have received their donations we follow up and offer advice about other things they're struggling with and are able to link them with other services. There is also a driving volunteering team as about 60% of families receive a delivery. So if you've got a car and a few hours free, this is another way you could get involved. 
We also do corporate team volunteering, companies can support employees to come along and volunteer with us. Anyone who is interested in volunteering or supporting Little Village can head to the volunteering page on our website to learn more. 
You can support our work by donating money, becoming a volunteer or donating items (particularly big items like cots and buggies).
The key areas of focus for us and main ways for people to get involved with Little Village are:
Financial donation

Donating pre-loved items

Volunteering
As you can see, Little Village is an incredibly worthy cause, run by wonderful people who truly want to make a difference but need all the help they can get. Our Kindness Project partnership with them makes it very easy for you to get involved. Simply donate your pre-loved or unused MORI clothing back to us, so we can send them directly to Little Village. In return for your kindness,In return for your kindness, you'll receive a voucher to spend on our MORI Bestsellers or however you like. See how it all works here.