Everything you need to know about bamboo fabric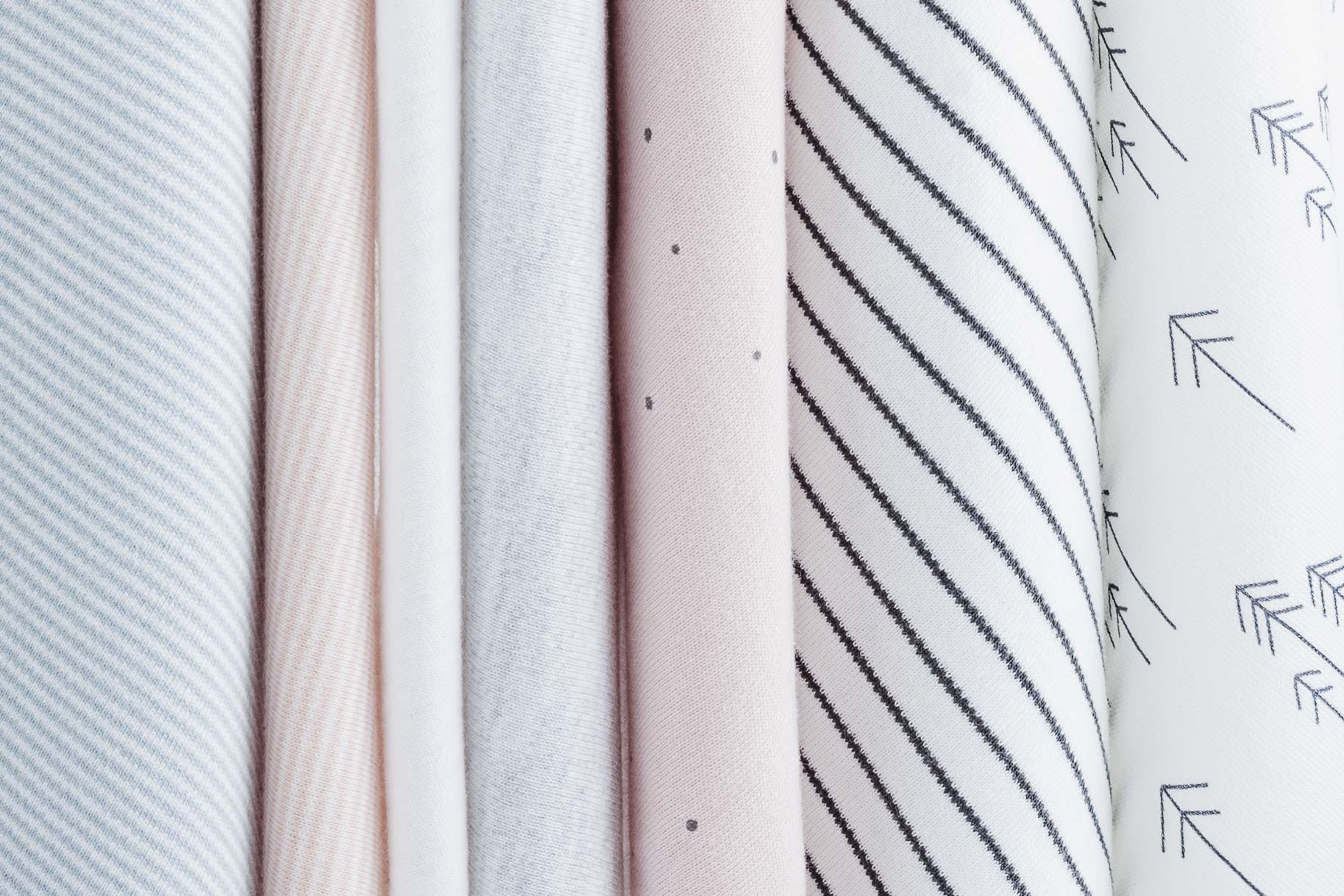 When you're shopping for a little one, you want to buy the best. That's why bamboo fabric baby clothes are a failsafe choice. The combination of super softness and durability is ideal for playtime & sleep, plus the fabric is sustainable, breathable and thermoregulating to be gentle on their skin and kinder to our planet. Read on to see why there's more to this plant than simply being a panda's favourite snack. 
The top 4 benefits of bamboo clothing: 
Bamboo is exceptionally soft
Bamboo material is just as soft as silk (maybe even softer depending on who you talk to!). A product such as our bamboo baby blanket is made by using long strands stretched across the blanket's entire length, eliminating any rough fibres. Bamboo fibres also get softer and softer the more they're washed, which is perfect for little ones who always get messy. 
Bamboo is sustainable
Bamboo is one of the fastest-growing woody plants in the world, making it a natural, sustainable and renewable resource. As well as growing fast, bamboo forests are very dense meaning they require less space. In order to make our organic bamboo clothing, we use a closed-loop process so all the water & chemicals are re-used again and again to minimise water demands and pollution. The use of viscose in the blend increases the durability of the fabric & therefore the lifetime of our clothing.
Bamboo is kind to the skin
A baby's skin can be surprisingly sensitive, which is why we created our famous bamboo sleepsuits. Rashes are one of the most common skin conditions for little ones and bamboo fabrics can help to soothe them. The fabric has the incredible ability to wick moisture away from their skin in order to keep the rash clean and dry so it heals quickly. 
Bamboo fabric is thermoregulating & breathable
Bamboo fabric is exceptionally breathable and efficient in venting excess heat and moisture away from the body. This means that even in hot weather little ones are able to naturally regulate their temperature to keep them from overheating. Due to the structure and breathability of bamboo, air is able to flow freely through the fabric so their body temperature can regulate against the outside temperature keeping them warm when it's cold too. That's why we use it in our famous sleepwear & sleeping bags. 
Frequently Asked Questions about Bamboo Fabric
As bamboo is still a relatively new material to use in clothing, It is only fair that you'll have some questions about it. Here we try to answer the most common ones we get from our customers:
What is bamboo viscose?
Viscose is a generalised term for regenerated cellulose fibres from plants, such as eucalyptus, beech or in our case bamboo. Bamboo viscose is made from the cellulose of bamboo plants. The green shoots are harvested and cut into chunks of raw bamboo. These chips are then soaked in a solution to soften them, this is where our manufacturers use a closed-loop process so all the liquid is recycled and the solvents are captured & removed from the pulp.
How do I take care of bamboo fabric?
All of our clothing is made to last & its environmental journey continues with you. We recommend washing our bamboo (and other) pieces at 30 degrees with similar colours. Due to the stretchy nature of the fabric, it may shrink a little after washing, if so, gently pull it back into shape whilst damp. Bamboo can be tumble-dried & ironed on low too. 
Bamboo yarns are long & strong which makes garments more durable. However, because we don't use extra chemicals to stabilise the fabric to keep it as natural as possible, you may notice slight bobbling with initial use. This is due to the longer yarns which continue to stick to the garment rather than falling off. Slight pilling is normal for natural fibres, but can be prevented through proper care (including ironing or using a lint remover) & doesn't impact the durability or the softness of the clothing.
How long has bamboo been used for making clothes?
Although it seems like bamboo textiles are a recent development, having only entered into commercial markets in the last 20 years, the concept of bamboo clothing is not new. The earliest patent involving bamboo was made by Philipp Lichtenstadt in 1864, who had the idea to use bamboo in the production of clothes, mats and papers. However, his enthusiasm waned when costs were calculated. Then, nearly 150 years later in 2001 bamboo was materialised into cloth for the first time by Beijing University. Since, 2004, the manufacturing of bamboo fabric has grown at an exceptional rate due to technological advances in affordable manufacturing processes and the demand for greener, more sustainable products. 
Is bamboo better than cotton?
Bamboo is more sustainable than cotton in the way that it's grown, however, this makes it much more expensive. That's why our unique signature fabric is a blend of both organic cotton & bamboo from viscose. We chose organic cotton as not only is it softer than regular cotton, but also grown using methods with a low environmental impact. Discover our organic cotton daywear too.
Is bamboo better than silk?
Whilst silk might be the most luxurious fabric on the planet, unlike bamboo, it's not breathable or thermoregulating. Bamboo is also much easier to take of since it can be machine washed regularly without wearing out. Last but by no means least, there's the cost to contend with. Whilst bamboo fabrics aren't cheap, a high-quality piece will cost you much less than the same quality of silk. 
Is bamboo dust mite resistant?
Bamboo repels common allergens such as dust mites by wicking away moisture (particularly useful at bedtime). This drop in water creates an inhospitable environment for dust mites and bacteria, therefore, reducing their chances of survival. 
Conclusion
To sum up, bamboo is a pretty incredible fabric. It is kind to our planet when manufactured responsibly, gentle on the skin, easy to care for and comfortable to wear all year round. 
As amazing as it seems, bamboo, like any other fabric isn't perfect, there are some disadvantages to using bamboo materials.
Shop our bestselling bamboo styles:
Read related articles
THE STORY OF OUR SIGNATURE FABRIC