We asked what was one of the biggest challenges faced as a parent of twins, and you said leaving the house! We asked mum of twins, and founder of Twins Love Concierge, for her top tips on getting out and about with twins...
Leaving the house with Twins may seem a little daunting at first. The thought of heading out with two babies and the mountain of baby items that come with them may seem like the impossible. But as they are initially immobile it is easier than you may think, it just requires a touch of planning and the confidence that you are able to do it on your own. After a few outings, you'll feel like super Mum or Dad and the fresh air is beneficial for everyone! Here are a few tips before heading out the door to help you have a smoother outing: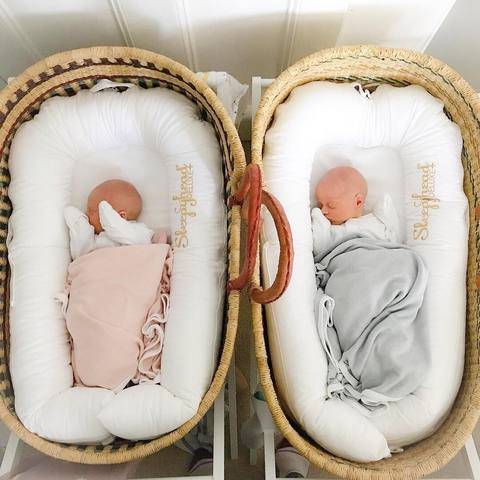 1. lightweight car seats or baby-wearing
The most important consideration is how are you going to get both babies out the door simultaneously with only one set of hands? The easiest of the available options is either two carseats or a twin baby carrier.

Purchasing car seats that are lightweight and having a pushchair that can be adapted to take both these carseats is a stress-free solution. The ability to take both babies on and off the buggy easily in their capsule, allows you to be a little more adventurous in your outing without the worry of how best to hold two at once. The key however is to look at the weight of the carseats sans babies. Whilst newborn Twins may not weigh much, as they get bigger carrying two heavy car seats with two growing babies will be quite a workout! Alternately purchasing a double carrier such as the Weego Twin or TwinGo allows you to forgo the buggy altogether and be hands free.
2. stocked nappy bag
Having a nappy bag with everything you may need when you are out and about will help for any type of outing. Try having the bag stocked and ready to go the night before, this will cut your time in the morning whilst trying to get everyone ready to head out the door. Always pack as if you will be out the entire day, even if it will be short adventure. Time with the Twins may be prolonged by unplanned feeds and nappy changes. Don't forget your cooler with breastmilk ready bottles if needed!
3. feed and go
To alleviate unnecessary stress, plan your departure as soon as your babies are fed. Having a hungry baby, let alone two babies, will not be pleasant for anyone. Have everything ready: change babies (clean nappy and clothes), change yourself, align everything at the door, and then feed babies at the same time. Once they have been fed and burped, place them in their seats or carrier and head out. You will have a good amount of time where they will be sleeping that will allow you to accomplish an errand, until you may need to come back home or settle somewhere where you will have to feed babies once again.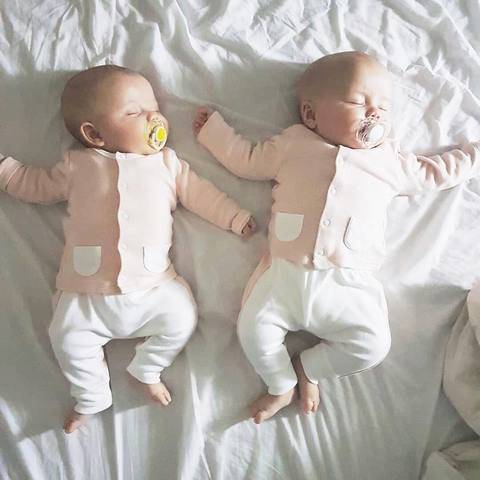 4. witching hour nightmare
Most babies will have a period of time during the day where they will get fussy and nothing will soothe them. This is what we call the dreaded witching hour! This time is usually, but not restricted to, the hours of 4-7 pm. Leaving your house at this time may prove an uphill battle for you and for your Twins. The babies should have the day coming to an end and getting into some form of bedtime routine. Going out will just push their routine back and may lead to two overtired, cranky babies (and one cranky Mummy)!
5. reduce over stimulating
As newborns, your Twins will sleep through just about anything, but as they get older they will be awake longer and more aware of their surroundings. Going into situations where babies may get startled over noises, pets, other kids or people may cause babies to get cranky rather swiftly. There is no reason to avoid these situations but being aware that different stimuli keeps babies alert, allows you to be emotionally prepared and ready!

Planning also for possible environmental changes will help everyone's response. Going somewhere where it may be too cold or too hot often presents fussing babies, so plan to bring blankets if it may get a little chilly or stripping off some layers of clothes to get the babies cooled down quickly and easily.
6. enlist help!

You are 100% capable of going out with Twins solo, but if you are able to enlist a family member or a friend to go with you for the first couple times, it will make the outing that more enjoyable. You can also have two single carriers and carry one each if the babies get too fussy in their pushchair. Try not to be too ambitious on your first adventure, just a stroll to the coffee shop down the road or a quick browse around the shops is enough to boost your confidence. Soon you'll be adventuring as a trio on a daily basis!
As a Mum to identical twin girls, Shannon created Twin Love Concierge from experiencing first-hand the dire need of parents of multiples to have access to parenting education and experts outside the world of singletons. With a team of renowned Multiples specialists from OB/GYNS, Midwives, IBCLCs through to Nursery Designers and Party Planners, TLC has become the premier service exclusively for parents of Twins. Setting up roots in London and NYC, the company has now expanded to more than 17 cities worldwide and where classes aren't offered in-person there is an option to join them live online. Alongside her Team of Associates, Shannon continues her mission to banish the myth that multiples are twice the work.
Discover MORI's best sellers. Loved by parents, a collection of our softest baby & toddler essentials crafted in our softest organic fabrics.

SHOP BEST SELLERS