MORI's Montessori-style wooden toys for babies & kids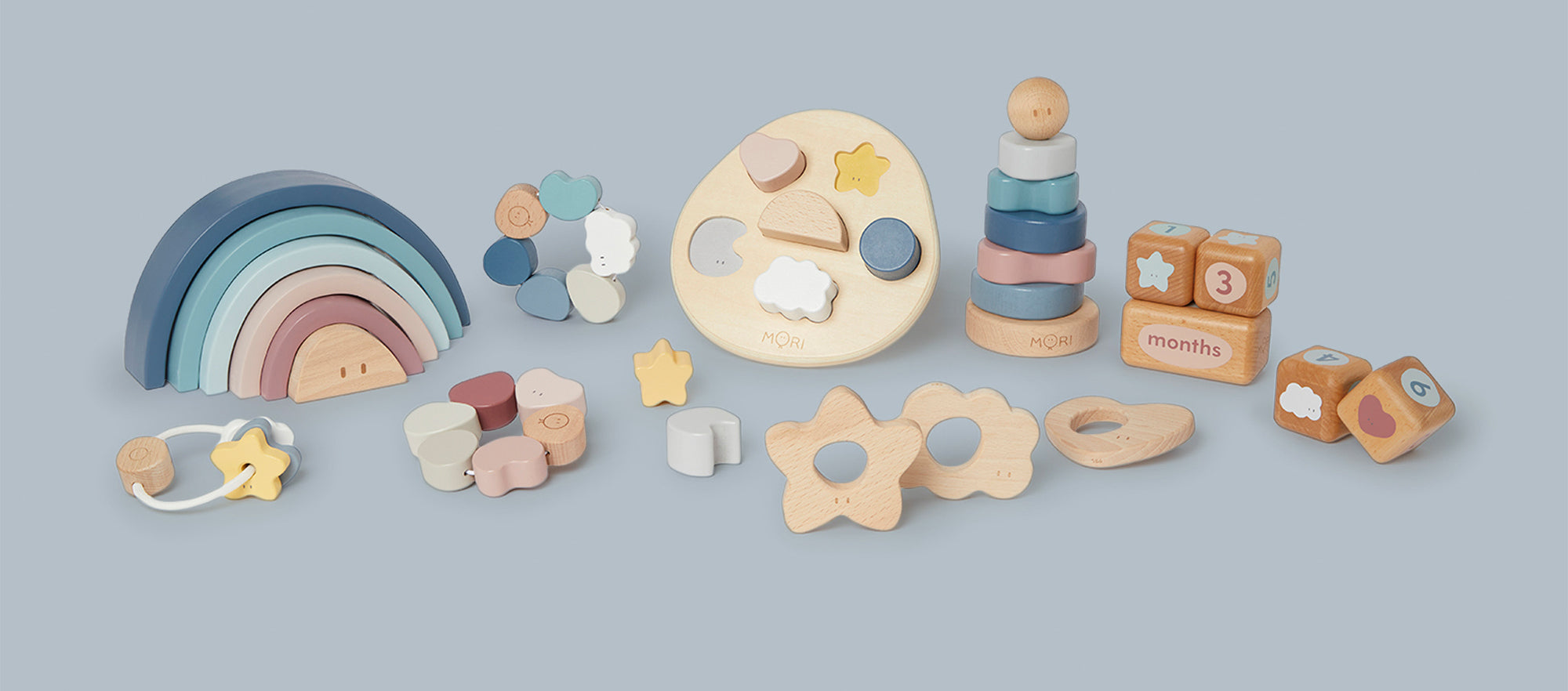 Little ones are naturally curious, so we created a range of wooden toys which would engage their curiosity and encourage independence. Our Playtime Collection is designed to inspire creativity and build foundations for cognitive and emotional development through hours of tactile play & learning. Designed for all ages our first-ever collection of MORI toys make wonderful baby shower & birthday gifts too.
The toys are painted in soft, muted colours to soothe rather than distract little ones, plus they look beautiful in any nursery. Every piece is made using sustainable materials in order to connect children to the world around them through the natural elements. We used Beechwood and MDF as these are safe & durable materials that can be played with constantly and still look as good as new to be passed on or treasured for years to come. As always, our packaging is recycled & recyclable to be kinder to our planet.
Toys suitable from birth
Wooden Teethers
Our teethers are available in star, heart and cloud shapes to suit every little personality. Made from natural Beechwood, they're a safe way to soothe sore gums. The teethers have a hole in the middle so babies can grasp and play, promoting hand-eye coordination.
Wooden Rattle Ring
Safe for babies & durable too, our rattle ring is made from natural Beechwood & MDF and decorated with non-toxic paints. The rattle is designed to encourage fine motor skills, hand-eye coordination & cause and effect reasoning through play.
Wooden Baby Milestone Blocks
A perfect baby shower gift, these wooden blocks can be used to commemorate the milestones of a growing little one. Painted with non-toxic paint, the natural Beechwood blocks include days, weeks & months with numbers 1-9 and colourful characters & shapes. When they're not in use for keepsake photos, they can be used during playtime as building blocks.
Toys suitable from 6+ months
Wooden Grasping Toy
Little hands love to clutch, meaning they'll love our wooden grasping toy. It's the perfect toy to incorporate into playtime as babies begin to develop their motor skills and hand-eye coordination. The toy is made from Beechwood and MDF which is durable and safe to chew since most things end up in a little one's mouth.
Toys suitable from 12+ months
Wooden Rainbow Stacker
The minimalistic design of our rainbow toy encourages children to use their imagination to the fullest. Little ones will love assembling the colourful Beechwood & MDF arches and as they get older learning colours and notions such as 'bigger & smaller' or 'taller & shorter'. As well as developing fine motor skills in smaller children, it will help older ones learn about balance and construction. The arches can also be used as bridges, tunnels, slides & more. The pastel rainbow looks just as good on their nursery shelf after playtime too.
Wooden Stacking Rings
Designed to encourage the development of motor skills and hand-eye coordination, our stacking rings have soft edges for safe play. Made from natural Beechwood, this stacking tower will help children learn concepts such as above, lower etc. As well as building upwards, the blocks can be rolled and caught or become whatever their imagination desires. We've painted it with non-toxic pastel paints so it looks beautiful on a nursery shelf too.
Wooden Shape Sorter
Introduce little learners to shapes and colours with this wooden sorter. The multi-tasking toy encourages sorting, counting, colour and shape identification through problem-solving. It's made from high-quality natural Beechwood and Liden Plywood with non-toxic paints so it's safe for a little one & kind to our planet.
Wooden Baby Toys Gift Set
Making an ideal first birthday gift, this set includes our Wooden Stacking Rings & Wooden Rainbow Stacker. As well as helping to teach fine-motor control and cognitive development in little children, the toys can be enhanced for learning as they get older by teaching colours, concepts, building & more.

Toy & clothing sets
Baby Milestone & Clever Zip Sleepsuit Gift Set
Welcome a new arrival into the world with this thoughtful gift set. It includes our Wooden Baby Milestone Blocks and Hello Baby Books so parents can record & celebrate every moment of their baby's first year. They'll also receive our bestselling sleepsuit & a little hat both crafted in our soft signature organic cotton and bamboo fabric. The sleepsuit is innovatively designed with a two-way zip from head to toe to make dressing & changing simpler.
Grasping Toy & Clever Zip Sleepsuit Set
This set makes a wonderful Christening or just because gift for a baby. It includes a natural Beechwood toy that is designed to encourage grasping, fine motor skills and hand-eye coordination. The set also contains our much-loved sleepsuit which is crafted in our softest signature fabric with a clever two-way zip along the front to make a parents life a little simpler.